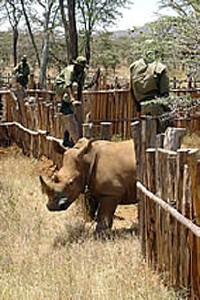 Lewa Wildlife Conservancy
SSWW and the Lewa Wildlife Conservancy have partnered for an all access, behind the scenes look into the Conservancy and how it acts as a catalyst for the conservation of wildlife and habitat in Northern Africa.
This documentary will take you from 1920's era Lewa Downs; a cattle ranch owned and operated by the Craig family, through the decades to what is now more than 60,000 acres of protected sanctuary. The Conservancy is home to the Ngare Ndare Forest and some of the largest populations of Africa's most threatened animal species.
The Lewa Wildlife Conservancy has had an impact beyond its protected borders with its conservation programs. The Conservancy Staff has been successful in their efforts to reduce the once prolific banditry, poaching and illegal arms trade in the region that threatens Lewa's wildlife, in particular, the black rhino.
Our plan is to complete this project in the near future. Join us for this wonderful expedition and experience how one family's passion and commitment can help change the face of a continent. More details coming soon. Please visit the Lewa Wildlife Conservancy to learn more about this amazing sanctuary.